Top Influencer Marketing Podcasts for 2022
If you're looking to build your influencer marketing strategy, you might have been considering launching a podcast. Or you may have been wondering whether a podcast is really going to be of value to you.
How much work is involved? Will it deliver value? How will a podcast help your brand to build trust with your target audience and expand your reach? 
Let's start with the basics. What is a podcast?
A podcast is a series of episodes, usually based around a particular theme or set of themes. They use audio files, and are usually hosted with a podcast hosting company. This makes it easy for listeners to subscribe to them and get notified every time a new episode comes out.
How can a podcast help me build my influencer reach?
For influencers, the best podcasts are a blend of content marketing and influencer marketing, helping your brand to build powerful relationships with your target audience and the top names in your industry.
By reaching out to leading experts and influencers in your industry (who are often surprisingly easy to engage, as a podcast is a fairly minimal commitment, and people are usually flattered to be asked), you can build your own reputation, pick up listeners from your guests' fans and attract even more guest speakers.
It's important to remember though, that there needs to be a two-way flow of benefit between you and your guest. True – as you're reaching their audience, they are reaching yours, but it needs to deliver more than that. An opportunity to promote their brand, or their new book or training programme…whatever their focus, collaborating with you needs to have value for them too.
If you're in the planning stage, or just starting out with your podcast plans, this can sound a bit daunting, but there are usually ways to overcome this challenge if you get creative. Can you provide them with some ready-made content that they can use on their own channels, for example?
The Influence Global Podcast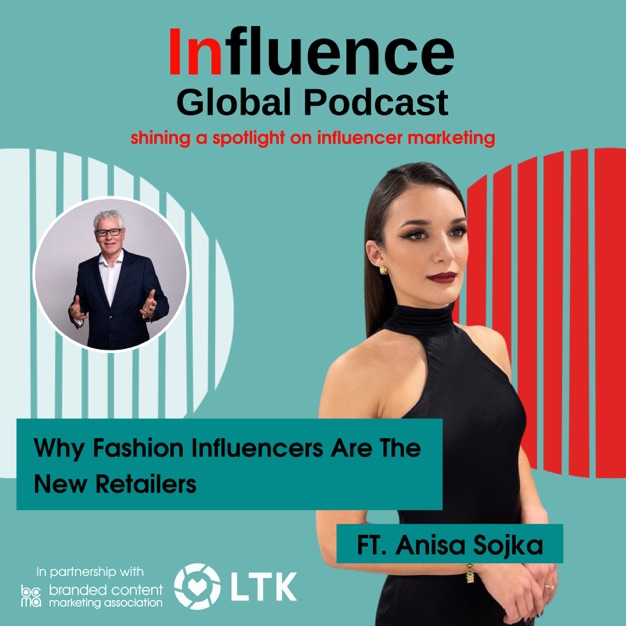 "OK, Gordon", you might be thinking. "This is all very well, but there's a lot of work involved here. How can you prove to me that podcasts really work?"
As a global influencer marketing expert, I don't just talk about how to do podcasts – I have my own, top-ranked podcasts with over 50k downloads featuring guests from the influencer space all over the world.
In my Influence Global Podcast, I talk to industry experts and influencers and creators about anything and everything to do with influencer marketing. From supporting creators and tackling diversity issues to monetising content and turning followers into customers, my guests cover a range of industries – I've even interviewed historian Dan Snow on how history can engage brands. 
You can check it out and subscribe here:
Influence Global Podcast – All Podcast Episodes – Gordon Glenister
I've also been looking around at some other highly ranked podcasts on the subject on influencer marketing. There are dozens out there, of course, but here are some of the best to inspire you further.
Blogosphere: Serious Influence (UK)
Blogosphere: Serious Influence is a podcast focussing on the business side of the influencer industry where the Blogosphere host talks to influencers, influencer marketers and brands.Blogosphere is a media company working with influencers, and running events, building influencer community relationships and publishing an internationally distributed industry magazine.
1 episode / week
Avg Length 47 min ⋅
Since: Aug 2018
The Influencer Podcast (USA)
The Influencer Podcast explores the ever-changing trends of influencer marketing and the careers of today's top social influencers. Host Julie Solomon, a coach, author, brand and pitch expert interviews some of the brightest minds in the industry who share their strategies, wisdom and answer some of your most pressing online business marketing questions
1 episode / week
Avg Length 34 min
Since: Apr 2017
Women in Influencer Marketing / WIIM (USA)
WIIM Women in Influencer Marketing (WIIM) is an exclusive networking group for women who are making a name for themselves in the world of influencer marketing. The podcast offers fresh and honest perspectives on hot topics, advertising trends and paving the way as a woman in business. 
1 episode / week
Avg Length 49 min
Since: Nov 2018

Influencer Marketing (South Africa)
The Influencer Marketing podcast from Nflu#ntial, a strategic consultancy focused on developing influencer marketing strategies for brands to increase visibilityand brand love and build better reputations. The relaxed podcast features chats with marketers, influencers and consumers 
2 episodes / month
Avg Length 36 min
Since: Nov 2017

Influencer Marketing for Destinations (USA)
Influencer Marketing for Destinations is part of the Destination Marketing Podcast Network. Influencer Carri Ward from Joy of Adventuring and marketer Melea Hames from Visit North Alabama share tips for successful influencer marketing partnerships
1 episode / week ⋅
Avg Length 24 min
www.audioboom.com/channels/5042861
Influencer Marketing Uncovered (UK)
Dedicated to uncovering the secret truths behind the success of the influencer marketing world, this podcast, combines interviews with global industry leaders, influencers, and new upcoming cultural voices in the industry. Focussed on bringing the hottest insights for keeping up with the latest trends, news, and hacks on building an influencer marketing campaign for a local and global reach.
1 episode / month
Avg Length 46 min
Influencer Marketing Uncovered on Apple Podcasts
Influencer Marketing Talks (UK)
Cure Media is a leading European influencer marketing agency working with fashion brands. Their Influencer Marketing Talkspodcast is a weekly 15 minutes podcast building understanding ofinfluencer marketing its power for building trust with audiences. Hosts and expert guests cover topics around digital marketing and social media.
1 episode / week
Avg Length 24 min

Influencer Marketing Talks | Influencer Marketing Podcast | Cure Media
Winfluence – The Influence Marketing Podcast (USA)
Winfluence – The Influence Marketing Podcast explores the strategic aspect of influencer marketing to help your influence efforts align with driving business value. Host Jason Falls interviews brand managers, agency strategists, software vendors, and influencers to uncover the art and science of influencing audiences to try, buy or think differently.
1 episode / week
Avg Length 33 min
Influencer Marketing – Expertise by Jason Falls
Authentic Influencer Podcast
The Authentic Influencer Podcast is a podcast by Social Tenacity, where authenticity is king and profit is a side effect. With over 20 years' experience in direct sales and digital marketing Founder Brook and her team have helped thousands of women learned that being an authentic influencer is the key to success. 
28 episodes / year ⋅
Avg Length 21 min
Since: Oct 2018
www.socialtenacity.com/all-podcasts
You'll see from these examples that a successful podcast can come in many shapes and sizes. You can release an episode once a week, once a month, or a few times are year. 15, 30, 45, 60 minutes – the length will depend on your audience, the type of content you are creating, and the time and budget you have available – as well as your goals for your podcast. 
There are numerous podcast platforms out there, which can help you to record, edit and post your own audio files, or, if you have the budget, you can engage someone to handle all that for you. That's one of the joys of this format – it's so flexible. 
Whichever approach you choose, though, like any other form of marketing it's important to have a clear strategy and defined goals.
If you'd like to talk about how to incorporate podcasting your influencer marketing strategy, doget in touch. I'd love to chat.
Gordon Glenister is the author ofthe book, Influencer Marketing Strategy. Learn:
how to build an influencer strategy
what makes a great influencer
about the rise of Clubhouse and Tik Tok
about future digital trends for connecting with a digital customer
Find out more  and order your copy at: Influencer Marketing Strategy Book By Gordon Glenister – Gordon Glenister