Use of social media has been growing exponentially of late, and the changes forced by the Covid-19 pandemic have accelerated that growth, as consumer habits and demands have adjusted in response.
A recent report by Hubspot and Talkwalker 'Social Media Trends in 2022' has highlighted 10 key trends in social marketing that you need to know about, and consider their relevance as part of your digital strategy.
The common denominator in all these trends is the consumer. Consumer power has grown, and they are now effectively in charge of your brand. What's important to them needs to be important to you – so your market intelligence is going to become even more crucial.
The report is packed full of insights, and is well worth a read, But for busy readers who don't have time to dive into the full thing, I've summarised the main take-outs for you here.
1. The domination of TikTok
Remember when TikTok was a playground for kids doing lip-synch videos? There's still plenty of that going on, but savvy brands have been exploring its potential for a while, and the platform has been developing new tools for marketers, with an e-commerce and monetisation model rumoured to be in the pipeline.
During 2021, TikTok became the first non-Facebook platform to exceed 3 billion global downloads, its meteoric rise largely driven by users turning to it during successive lockdowns.
TikTok's popularity lies mainly with the younger age-groups, and successful brands are those which are able to capitalise on the move from simple ads to more direct communication with consumers.
One of these is live-stream marketing, which has already taken off in Asia. Read about live-stream here.
The essential message here is that if your customers are on TikTok, you should be too. More than that, you need to be part of their conversations and willing to embrace user-generated content.
2. As cookies are phased out, social media ads will grow in importance
Social media continues to develop as a tool for reaching out to bigger audiences than ever before, and to engage with them in a more personal way. The customer journey is changing (and shortening) and successful brands on social media know how to engage directly and positively with their audience. That relationship might also be fragmented across various channels, so your data strategy will become more critical.
3. Social selling will simplify the customer journey
Social media platforms have recognised the importance of social selling and started to provide new shopping features, making it easier for brands to engage with, and sell to, social media users without them needing to leave the platform. Instagram is just one platform that has introduced these new shopping features. Combining the power of a strong influencer strategy with these new e-commerce possibilities is one way that brands are simplifying the customer journey and making it easier for social media consumers to become customers.
But it's important to recognise that the brands doing this successfully are those willing to get creative with their customer engagement. It's not just about well-placed ads. Livestreams and other engagements with consumer-led content are creating more positive engagements – shoppertainment is a growth area.
4. Consumer needs will shape content
The pandemic drastically increased our use of and reliance on social media. As a result content trends have moved on and brands need to adapt their marketing accordingly. Social media users increasingly expect that, since companies have their data, they tailor their content more accurately – so brands need to get more granular in terms of how they create content for specific locations, age groups, interest areas or gender.
The key take-out from this is that consumer insights are vital to enable you to create content that's targeted to specific audiences.
Lifestyle and working habits having shifted during lockdown, consumers are acutely aware of the types of content that suit them – whether in terms of platform or duration. Bitesize formats are popular.Interestingly, too, although video and livestream content is still on the up, audio only content – including podcasts – is also very popular.
Think about your customer experience and whether it needs improving to make buying from you as simple as it can be. How easy is it to make a buying decision without seeing or touching an actual product? VR features are being added by many successful brands, allowing customers to explore, test and try out online.
5. Onmi-channel engagement is changing the way customers use social media
According to the Hubspot report, 64% of users now receive their news from Facebook, Twitter, Instagram, Youtube and Snapchat, instead of traditional media. This rise in social media consumption gives brands many opportunities to expand their audiences and increase the number of connections with you – as long as you are providing the content that your consumers actually want. Beware of fake news and misleading content!
As the table below shows, media is the largest source of misinformation, so to gain and keep the trust of your audiences you need to ensure you are providing trustworthy content, and challenging sources of fake news.

Although social media platforms are beginning to take more responsibility for fact-checking (Twitter, for example, has a partnership with Reuters to help combat misinformation), consumers themselves play a significant part in spreading misinformation. So brands who want to remain trusted need to be keeping an eye on not just their own content, but the content their online community is reading and sharing, and take a proactive role in sharing factually correct information to build trust.
6. Influencer marketing will come into its own
Influencer marketing has been growing up over the last few years, and is fast evolving into a sophisticated and more regulated version of itself. Combined with brand advocacy, where 'real' consumers become influencers in their own right, it's a powerful tool for switched-on brands. Since the onset of the pandemic, we've become more conscious that a consumerist outlook isn't good for the planet, so many brands are choosing to work with influencers with a social conscience that reflects their own vision.
A 2021 report by the Influencer Marketing Hub revealed that 67% of respondents were using Instagram for influencer marketing as part of their strategy.
This article explores developments in influencer marketing in more detail: https://gordonglenister.com/brand-advocacy/
7. Brands will take more control over social, with their own platforms
Social media used has exploded through the pandemic precisely because it enables the connections, socialising and relationship maintenance that Covid-19 impacted. The lesson brands need to learn from that is that they need to ensure that their digital platforms, apps and channels include social aspects.
The other side to this is that the ability to create communities is no longer limited to the big social media platforms. It's now possible to build effective in-house social networks –enabling brands to take back control of their audiences from the global giants and, crucially, maintain more control of their content – or put more control in the hands of their audiences.
Stronger interactions mean greater engagement. As consumers become more able to interact direct with a brand, we'll see how engagement and retention increase.
One brand that has been doing this very successfully is Venmo, which keeps its users engaged through conversations and connections on its social media channels, resulting in a higher level of trust and appreciation.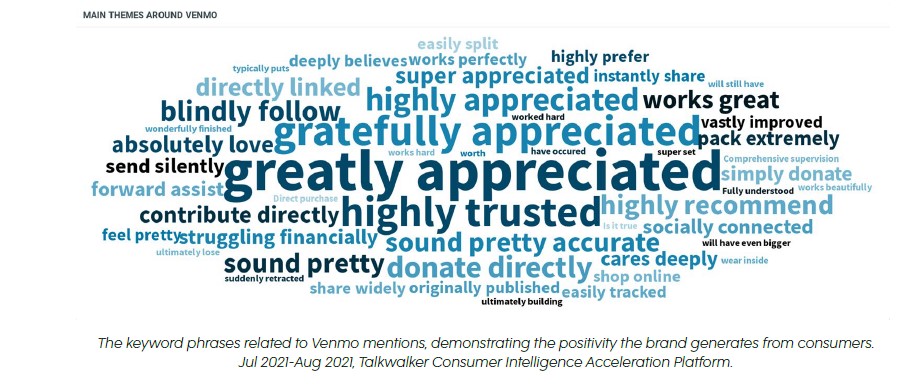 8. The rise of the metaverse
So what's a metaverse? A good question, as the word didn't really exist until recently. It refers to the amalgamation of the physical world, the augmented and the virtual. It was led, unsurprisingly, by the gaming industry, but even before Covid-19 hit, many brands were experimenting with virtual reality. The need for increased online social interactions and more immersive experiences during lockdowns has accelerated developments. Across industries and sectors, brands have realised that features like virtual dressing rooms, digital meet-ups and more personalised digital customer service can help them to stay relevant and create deeper connections, especially with younger audiences.
As Tania Tal, MD at DIA Brand Consultants says in the Hubspot report, "The metaverse is becoming the future playground for brands, where real and virtual worlds converge."
Expect to see exciting new developments over the coming year.
9. Sustainability and inclusivity will become key
Covid-19 forced people to make drastic changes to how they live and work, and they now demand more from the brands they buy from. People are increasingly valuing sustainability – and they expect it to be authentic. The re-evaluation is also impacting on employment, with employees giving more importance to a company's purpose than ever before.
Brands are no longer able to simply produce products or provide services and ignore the topics that matter to their audiences. Customers expect them to engage with issues of sustainability, inclusivity – everything from environmental concerns to social justice and mental health.
Lego is an interesting example. Their 'Everyone is Awesome' set, launch to coincide with 2021 Pride Month garnered 64% positive conversations, with over 20K people heading to social media to express their excitement.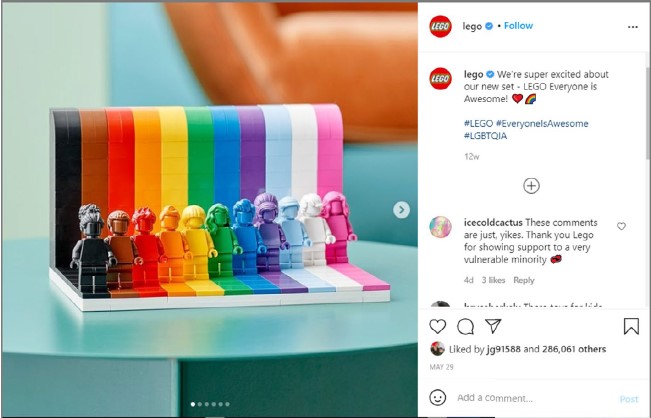 Some of the most important take-outs here are that whatever you say needs to be genuine and authentic. It's no good saying one thing, but acting differently. Your customers will notice! Listen to your customers and come up with ways to include as many of them as possible.
10. Communities are becoming the driving force
Given the previous trend, it should come as no surprise to hear that the community is taking charge. Whilst the onus is on brands to establish communities of consumers through strategic content shaped around their needs, they can't always control what they say and do. With social media, these communities are able to form outside the brand's owned spaces, which can have interesting outcomes. Social communities and movements can form, grow and gain power very quickly (witness the BLM and #MeToo movements) and brands with the right messages will be able to tap into them. On the flip side, get it wrong, and the disruptive power of the community can have catastrophic effects.
Again, transparency is important here – your social media presence needs to be as genuine as possible, with the ability for your audience to interact as much as possible. Communities also need nurturing, so be prepared to put the commitment in when it comes to maintaining them, and the pay-off will be brand engagement, exposure and even brand love.
There's so much valuable information in the full report that I've only been able to give you a digest of the key points here. If you want to explore the case studies and examples in more detail, you can download the full report here ↓
If you'd like to explore how to tap into these emerging trends and build an effective social media marketing programme for your brand, let's talk.
Gordon Glenister is the author of a new book, Influencer Marketing Strategy. Learn:
how to build an influencer strategy
what makes a great influencer
about the rise of Clubhouse and TikTok
about future digital trends for connecting with a digital customer