Partly fueled by months of lockdown, the fitness influencer (or fit-fluencer) business has been going from strength to strength over the last couple of years. With gyms closed and exercise possibilities limited, social media became many people's go-to resource for workout programmes, and fitness and nutrition advice.
In the UK, who can forget the massive popularity of trainers like Joe Wicks (who also raised nearly £600k for the NHS) or Lucy Windham-Read, army corporal turned personal trainer.
Brands like Peloton saw massive, rapid growth as people invested in home workout equipment to help them maintain their fitness whilst stuck indoors (though Peloton has found that a return to normal has hit sales, and 2022 has seen the brand further battered by negative press surrounding supply chain problems, product fails and even deaths).
But what of the individuals who peddle their fitness and image advice in 2022? How successful are they financially? Where are they really making their money, and who is at the peak of their performance?
Heydiscount.co.uk, one of the UKs leading online discount code sites, has compiled a fit-fluencer rich list report looking at who is in the best shape as we head into 2023.
The report looks at average earnings across Instagram, TikTok and YouTube, and assesses who has the fastest growing audiences.
Richest fit-fluencers across all platforms
1. Pamela Raif
Pamela tops the list as the richest fit-fluencer – with estimated total earnings across all platforms reaching a whopping £22,142 per post.
Pamela has been posting her health and fitness routines since 2012, starting on Instagram before building a YouTube channel. Today her workout videos regularly get up to 45 million views, and she boasts the largest social following plus the highest average earnings per post at £22,142.
2. Not far behind is the second richest fitness influencer, Cassey Ho, with estimated total earnings of £21,896 per post.
Cassey began posting pilates videos in 2009.Today, her business empire selling her brand of activewear and fitness accessories earns her an average of £21,896 per post.
3. Third in the overall rich list is Kayla Itsines who earns a respectable average of £14,000 per post
Australian personal trainer Kayla began her career by posting her clients' weight loss progress images on Instagram. She thenestablished her business empire by publishing a series of e-books and now earns an average of over £14,500 per post.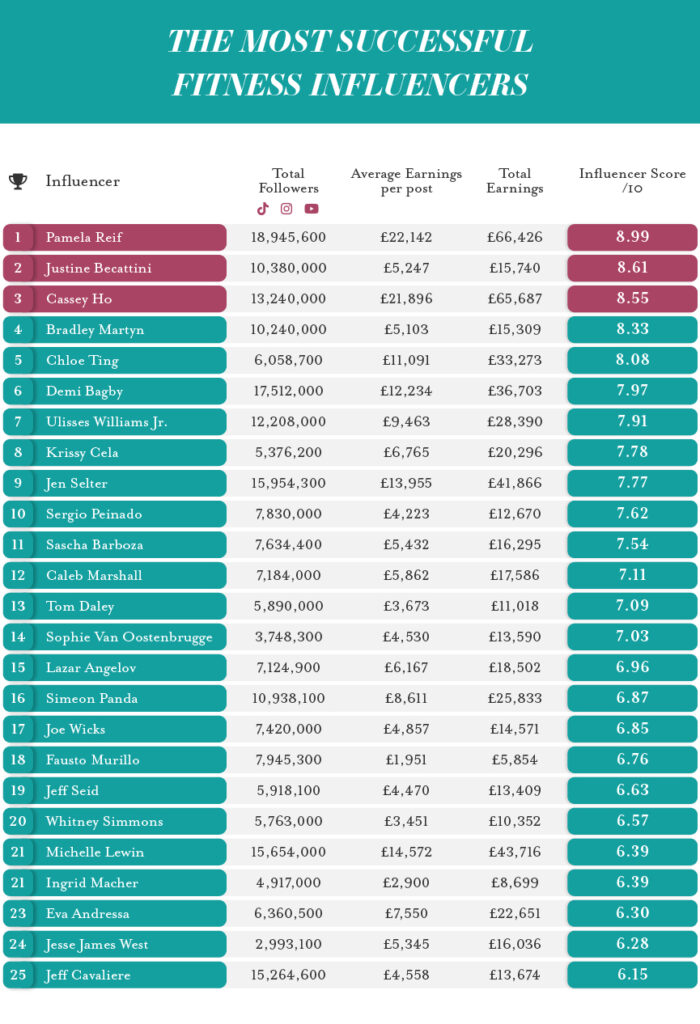 Richest TikTok fit-fluencers
1. Demi Bagby
Topping the list of TikTok earnings at £10,907per post is Demi Bagby.
Demi discovered CrossFit after being paralysed for 3 months, and began posting her fitness workouts and challenges on TikTok. She quickly gained a following of 14.4 million and now has over 14 million views on the platform.
Demi Bagby (@demibagby) Official | TikTok
2. Roland Pollard
Next on the TikTok rich list is Roland Pollard with earnings per post of £4,772.
The former cheerleader achieved TikTok stardom during the pandemic with his videos of him and his daughter performing impressive cheerleading stunts, gaining 6.4 million followers.
Roland Pollard (@rolandpollard) Official | TikTok
3. Justine Becattini
TikTok earnings per post: £3,334
Justine is better known online as Juju Fitcats, and earns £3,334 per TikTok post. She began her career on YouTube in 2017, before expanding to other platforms and has also published two cookbooks and regularly competes in CrossFit competitions.
Juju Fitcats (@jujufitcats) Official TikTok | Watch Juju Fitcats's Newest TikTok Videos
Richest Instagram fit-fluencers
1. Kayla Itsines
Instagram earnings per post: £38,241
One of the top-ranked fit-fluencers overall, Kayla Itsines tops the list on Insta earning a massive £38,241 per post. As well her hugely popularebooks teaching women workouts and nutrition, the personal trainer and author has launched her own app, which she reportedly sold last year for £233 million.
KAYLA ITSINES (@kayla_itsines) • Instagram photos and videos
2. Michelle Lewin
Instagram earnings per post: £37,801
Venezuelan fitness model and bodybuilder Michelle Lewin is up next. Michelle grew up in extreme poverty, before discovering bodybuilding and fitness modelling at 17. She now has around 15 million fans on Instagram and earns £37,801 per post.
Michelle Lewin (@michelle_lewin) • Instagram photos and videos
3. Jen Selter
Jen Selter's fitness, lifestyle and recipe posts have built up a following on Instagram of over 13.5 million and put her third place for Instagram earnings, at over £33,000 per post.
Jen Selter (@jenselter) • Instagram photos and videos
Richest YouTube fit-fluencers
1. Raul Diaz
Raul Diaz is a cheerleading coach from Dallas, Texas who first shot to TikTok fame posting comedy videos and stunts from his cheerleading gym.His YouTube channel currently has over 2 million subscribers and earns him a massive £314,636 per video.
2. Cassey Ho
YouTube earnings per video: £151,491
No. 2 in the overall league table, Cassey Ho also takes second place for YouTube earnings, making £151,491 per video. The pilates instructorbegan with YouTube videos choreographing classical pilates moves to top 40 hits and her blogilates channel today has 7.77 million subscribers.
3. Jesse James West

YouTube earnings per video: £88,585
22-year-old Jesse James West, has become a YouTube star by posting his workout routines, with a growing audience of (currently) 2.15m million subscribers. He earns an estimated £88,585 per video plus cashing inon his own fitness clothing and accessories.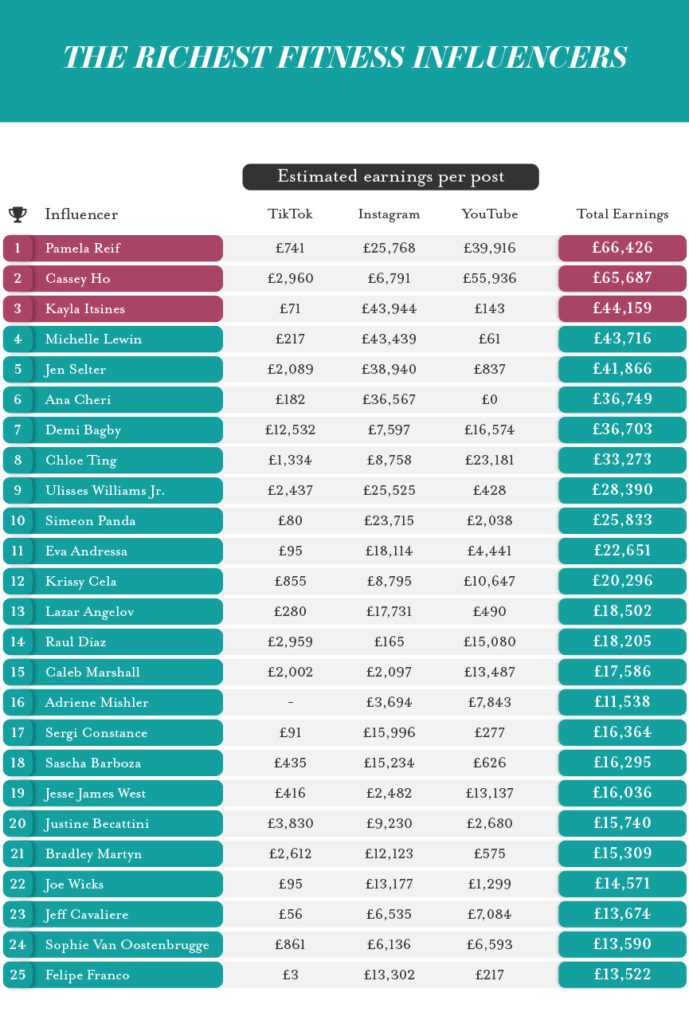 Most influential fit-fluencers with the biggest social following
1. Pamela Reif
Total Followers: 18,945,600
Richest fit-fluencerPamela Reifalso has the highest total follower count, at nearly 19 million across the three platforms. She initially built a following on Instagram posting about health and fitness routines before starting a YouTube channel.Now her workout videos regularly get up to 45 million views.
2. Demi Bagby  
Total Followers: 17,512,000
Demi Bagby is a 21-year-old CrossFit athlete and adrenaline junkie who posts content on sports ranging from sky diving and surfing to skateboarding and gymnastics to over 17.5 million fans across Instagram, TikTok and YouTube.
3. Jen Selter
Total Followers: 15,954,300
Jen Selter's fitness routines and nutritional advice have currently gained her a combined total of more than 15.9 million followers. She began her career on Instagram, seeking encouragement for her own fitness journey then built her careerproviding fitness routines and nutritional advice to inspire others.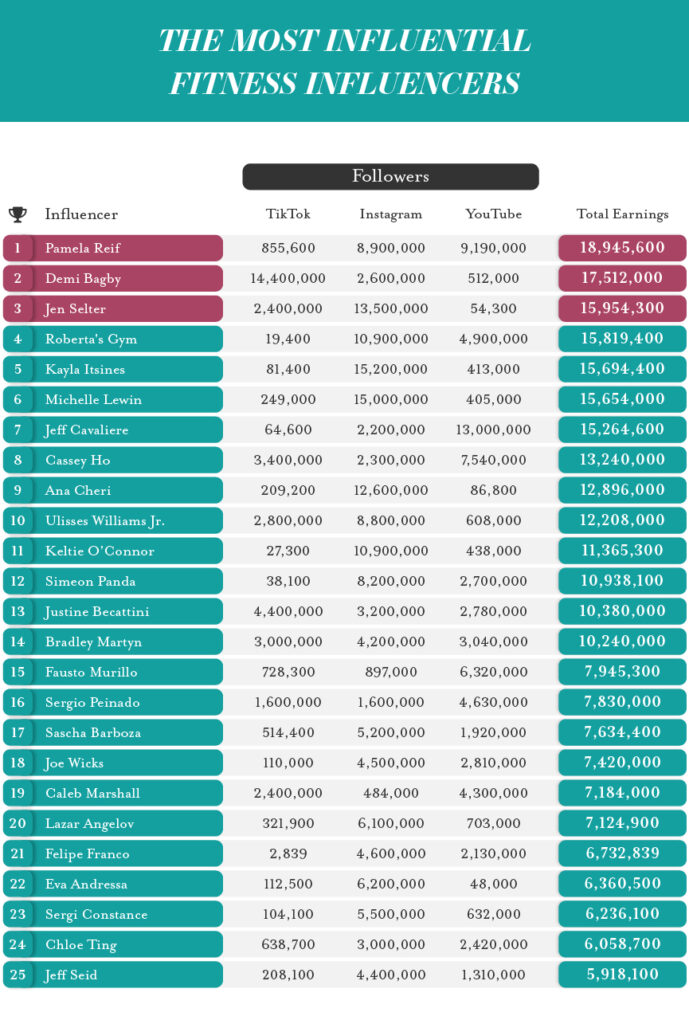 You can read the full report and get some deeper into the stats here Fit-Fluencers – Social Media's Most Successful Fitness Gurus 
To me, the two biggest take-outs are:
The rather obvious conclusion that there is massive potential in the fit-fluencer market
Finding your authentic niche is key to success
A word of caution for aspiring fit-fluencers
The market is massive, there's no doubt about it. But there's also a lot of concern about the connection between body image and mental health, and how the, sometimes unrealistic, images posted by influencers can have a negative effect.
This article from the US National Federation of Professional Trainers highlights some interesting 'red flags' relating to some of the less wholesome aspects of the industry, and is worth a read: Fit-fluencer Red Flags (nfpt.com)
If you'd like to talk about how to build or develop your influencer marketing strategy or how to connect with the right influencer marketing agency for your brand, get in touch. I'd love to chat.
Gordon Glenister is also the author of the book, Influencer Marketing Strategy. Learn:
how to build an influencer strategy
what makes a great influencer
about the rise of Clubhouse and Tik Tok
about future digital trends for connecting with a digital customer
Find out more and order your copy at: Influencer Marketing Strategy Book By Gordon Glenister – Gordon Glenister